Gingerbread House Family Night, Dec. 9, 5-9pm. Please see flyer for more info!
Harrington SD "For"/ "Against" Committee Notice Harrington School District is seeking applications from citizens interested in being appointed to a committee to write the for/against statements for the Lincoln County Local Voters' Pamphlet related to the District's ballot measure for the Replacement Educational Programs and Operation Levy to be considered at the February 8, 2022 Special Election. Those interested should send their name, address, phone number and which position they represent to Wayne Massie, Superintendent and Secretary to the Board, Harrington School District, 100 S 1st Street Harrington, Washington WA 99134 or via email at
wmassie@harringtonsd.org
by November 19, 2021. The Board will take action on the appointments at its November 22, 2021 regular board meeting.

Support Harrington FFA! Poinsettias, trees & wreaths for sale November 27-December 4. Contact Betty at 509-253-4331.

Harrington School District No. 204 P.O. Box 204 * 100 South First Harrington, WA 99134-0204 (509) 253-4331 – Local * (509) 253-4338 – Bus Garage (509) 456-2465 – Spokane * (509) 456-6306 – Fax September 8, 2021 Re: In Response to July 28, 2021 Department of Health Update Dear Honorable Governor Inslee and Washington State Department of Health: This letter is being written to affirm our school board's commitment to students and the agreement with the letter from a number of Washington State Superintendents on August 18. OUR STUDENTS NEED HOPE. Coming off an unmasked summer of Washington State being "fully open', our students are now in school following the mask mandate and other mitigation strategies. We are not health care professionals, and you have never made it clearer that the upgraded guidance holds the power of law. Further, superintendent Reykdal has made it clear that if we do not follow these requirements our funding apportionment will be withheld, and further this is not a local decision in any way. We will follow the requirements and guidance as best we can. It is challenging with parents protesting the mask mandate at meetings and rallies. Our school did not shut down a single day last year as a result of COVID-19 and we were in school/in person the entire year. We intend to do everything possible to keep our students, staff, and community safe and healthy. With a focus on the "whole child" and our district's work on dealing with trauma and the aspects of mental health on our students' well-being based on talking with them, the COVID-19 Survey (6/28/21), and doing a local survey we know students are struggling with their mental health. Like the letter written prior to this, we ask also that you please consider: • When you hold a press conference or update schools on data about the COVID/Delta Variant, you include multiple metrics on the status of mental health and well-being of school aged children. • Any time that requirements for schools are updated, include current mitigation strategies on the mental and emotional impact this pandemic is having on students. • Establish a specific metric to apply to local communities that sets a benchmark for when masks can come off and other mitigation strategies are no longer needed. This may provide some hope for our students and their families and give communities a goal to rally around. With the Delta variant raging and the Lamba variant gaining ground it may seem like a long haul for everyone, but we are willing to do what is needed. Thank you for your serious consideration of this request. We appreciate all that you are doing to keep Washingtonians safe as well as your ongoing leadership while everyone navigates these difficult times. Sincerely, Wayne Massie, Superintendent on behalf of Harrington Board of Directors
Returning student online registration is open for the 2021-2022 school year. If you need password assistance or would prefer a paper copy of these forms please email me directly at
ktanke@harringtonsd.org
or call (509) 253-4331 ext. 200 and I will mail them to you. Thanks - Kelli Tanke
https://bit.ly/3lLmHt8
Thank you Donors!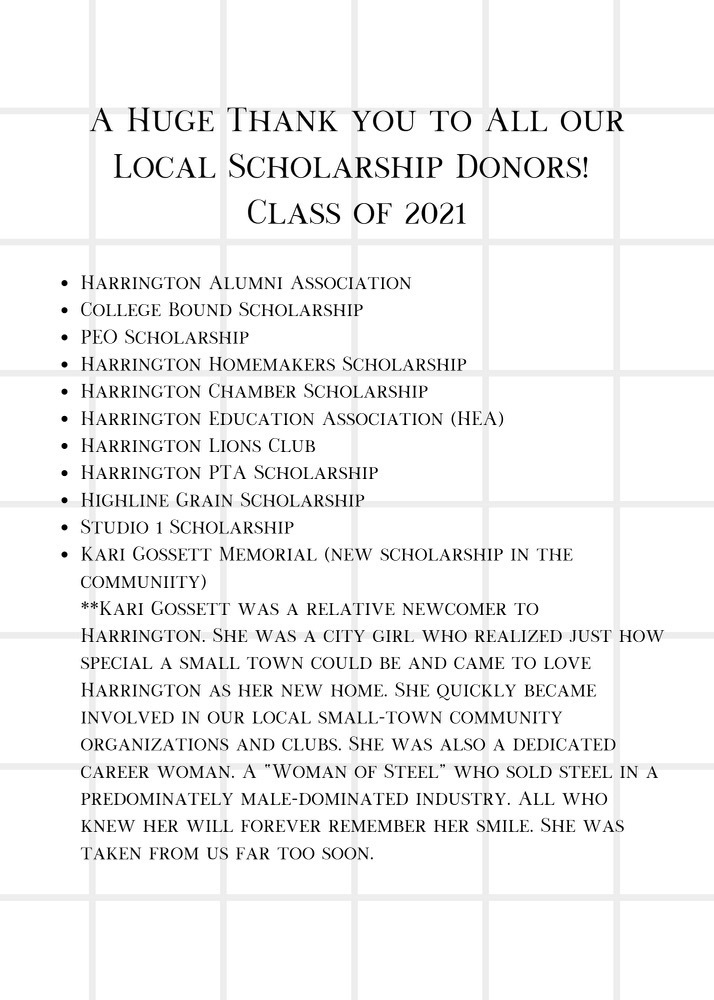 Keep your child's Well-Child exams up to date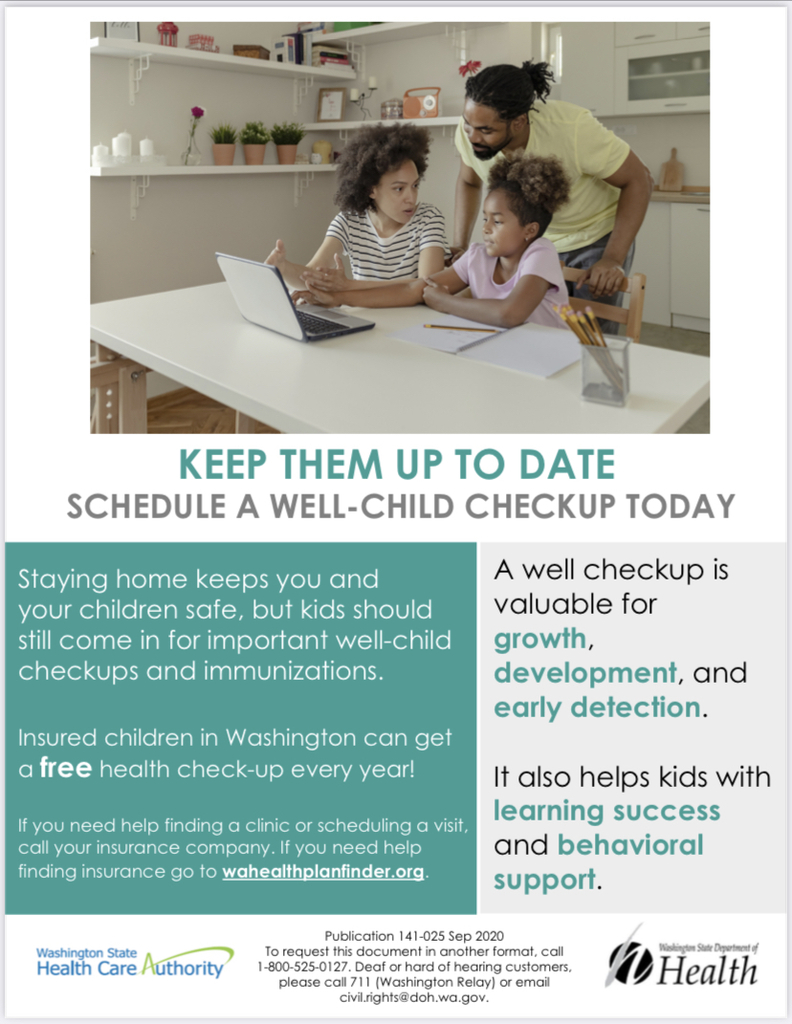 Harrington High School Class of 2020 Graduation! The Harrington High School Class of 2020 Graduation Ceremony will be live-streamed on the Harrington School District Website (harringtonsd.org) tomorrow, Thursday June 11th at 6:00PM. The live-stream can be viewed from the comfort of your home or any location you choose. Community members may view the live-stream from the Harrington School parking lot and have the additional enjoyment of seeing the graduates walk outside in their caps and gowns. Because of state issued Covid-19 social distancing guidelines, the only participants allowed in the Harrington School gym to see the ceremony in person are the graduates, their short list of invited guests, and a small number of Harrington School faculty, staff, and other individuals directly involved with running the ceremony. We hope you enjoy the graduation ceremony as it is live-streamed, and we are sorry that we cannot accommodate any other individuals at the live ceremony.

Good evening Harrington families. Today the governor announced that schools in Washington will be closed for the remainder of the school year. However, we will continue with our distance learning model that we have been using the last three weeks. Our pick-up and delivery date for student work will be changing to Tuesdays beginning April 14th. We will be focusing on meeting standards for the remainder of the school year with a distance learning model. Secondary students, it is important you are completing your work and earning the credits you need to graduate. A letter was mailed last week with more details for secondary students. Thank you for all your continued efforts at home! Have a good evening.

Good evening Harrington Families. If you were unable to pick up your child's enrichment work at the school today, bus drivers will be bringing it to your home tomorrow. They will leave school at 11:00am. Thank you and have a great evening.

Hello Harrington Families, starting tomorrow, March 18th, we will be serving a grab and go lunch and a next day breakfast in front of the school by the kitchen door from 11am to 1pm. All children ages 1-18 years old, or students, MUST be present to receive the meals. Beginning Monday, March 23rd, we will add country delivery by bus routes. All children MUST be seen to receive said meals.
Please read the documents using the following link for an important message regarding Harrington School District's plan for navigating COVID-19.
https://tinyurl.com/t3toe4n

Stay up-to-date on the recent school closure! Download the Harrington School app!

Good evening Harrington Families. With the sudden closure of school, we wanted to give you an idea of what is occurring. In the next few days, we will be sending information home with ways to connect and to get school materials to your children. We will be communicating via email, snail-mail, Facebook, our school website, and/or phone calls. We thank you for your continued support and patience.

Harrington Schools will be closed effective immediately. More cases are being reported and Governor Inslee is closing more businesses effective tomorrow. There will be no school tomorrow (Monday). A call will go out tomorrow at 5:00am. Thank you.

Good afternoon Harrington Families. We will be having a regular day tomorrow, March 16th. Buses will run at their regular times. Breakfast and lunch will be served. Our teachers will be sending work that can be done at home for this next week. Additionally, we are asking any student that went to the Prom in Davenport on Saturday, March 14, 2020 to stay home tomorrow. Please call the school if you have any questions (509) 253-4331. Thank you.

Attention Students, Parents, and Community Members. After jointly consulting with the Lincoln County Health Department, Lincoln County Road Department and legal counsel, the administration from Davenport, Harrington and Reardan-Edwall school has made the decision that the school districts are no longer sponsoring the 2020 Prom. This decision was not made lightly, but with the advanced risk of COVID-19 in our communities and the poor road conditions, this is the safest option. We must hold the safety and well-being of our students as our top priority. We appreciate your support as we navigate this difficult time. This is from the Administration of Davenport, Harrington, and Reardan-Edwall School Districts. Thank you.