Harrington School District No. 204 P.O. Box 204 * 100 South First Harrington, WA 99134-0204 (509) 253-4331 – Local * (509) 253-4338 – Bus Garage (509) 456-2465 – Spokane * (509) 456-6306 – Fax September 8, 2021 Re: In Response to July 28, 2021 Department of Health Update Dear Honorable Governor Inslee and Washington State Department of Health: This letter is being written to affirm our school board's commitment to students and the agreement with the letter from a number of Washington State Superintendents on August 18. OUR STUDENTS NEED HOPE. Coming off an unmasked summer of Washington State being "fully open', our students are now in school following the mask mandate and other mitigation strategies. We are not health care professionals, and you have never made it clearer that the upgraded guidance holds the power of law. Further, superintendent Reykdal has made it clear that if we do not follow these requirements our funding apportionment will be withheld, and further this is not a local decision in any way. We will follow the requirements and guidance as best we can. It is challenging with parents protesting the mask mandate at meetings and rallies. Our school did not shut down a single day last year as a result of COVID-19 and we were in school/in person the entire year. We intend to do everything possible to keep our students, staff, and community safe and healthy. With a focus on the "whole child" and our district's work on dealing with trauma and the aspects of mental health on our students' well-being based on talking with them, the COVID-19 Survey (6/28/21), and doing a local survey we know students are struggling with their mental health. Like the letter written prior to this, we ask also that you please consider: • When you hold a press conference or update schools on data about the COVID/Delta Variant, you include multiple metrics on the status of mental health and well-being of school aged children. • Any time that requirements for schools are updated, include current mitigation strategies on the mental and emotional impact this pandemic is having on students. • Establish a specific metric to apply to local communities that sets a benchmark for when masks can come off and other mitigation strategies are no longer needed. This may provide some hope for our students and their families and give communities a goal to rally around. With the Delta variant raging and the Lamba variant gaining ground it may seem like a long haul for everyone, but we are willing to do what is needed. Thank you for your serious consideration of this request. We appreciate all that you are doing to keep Washingtonians safe as well as your ongoing leadership while everyone navigates these difficult times. Sincerely, Wayne Massie, Superintendent on behalf of Harrington Board of Directors
Huff n' Puff Fun Run is open for Registration and Sponsorship! The fun run is September 25th and forms can be found using the following links: Registration forms:
https://5il.co/xrib
Sponsorship forms:
https://5il.co/xria
Returning student online registration is open for the 2021-2022 school year. If you need password assistance or would prefer a paper copy of these forms please email me directly at
ktanke@harringtonsd.org
or call (509) 253-4331 ext. 200 and I will mail them to you. Thanks - Kelli Tanke
https://bit.ly/3lLmHt8

Elementary Teacher Position Opening Harrington School District is seeking full-time ELEMENTARY TEACHER (3rd and 4th Grade Combination) 2021-2022 Please return application packets to Tiffany Clouse, Principal ABOUT THE TOWN OF HARRINGTON AND THE HARRINGTON SCHOOL DISTRICT… Harrington is a small, rural wheat farming town located approximately 60 miles west of Spokane, WA with a total population of just over 400 residents. Harrington is located at the geographic center of Lincoln County, surrounded by rolling wheat fields. The city of Davenport is 13 miles north while the town of Sprague is 22 miles south. We are a P-12 school where all the students attend the same school. There are about 130 students who attend the school in a single building. Our school is the center of the community, receiving great community and school board support. Our staff, from bus drivers to teachers, work closely together. We work as a team to meet the learning needs of all children. WHO SHOULD APPLY? We are looking for a teacher who is passionate about children and believes that all students can learn. A qualified applicant would possess a valid Washington State teaching certificate with an elementary endorsement. Candidates who hold certifications of endorsements to teach multiple subjects are also strongly encouraged to apply. Candidates must be willing to teach upper elementary grades, including a combination class. They must be an advocate for all children and demonstrate an ability to inspire students toward meeting the schools mission and vision. This is a full time, continuing position. Salary is based on placement on the local certificated bargaining unit contract. IF YOU ARE INTERESTED IN COMING TO HARRINGTON… Please visit our website at
www.harringtonsd.org
to find all the application materials under the tab Employment, on the bar at the top of the website. If you have questions, please contact Tiffany Clouse at 509-253-4331 or
tclouse@harringtonsd.org.Harrington
School District #204 ELEMENTARY TEACHER (3rd and 4th Grade Combination) 2021-2022  Small, P-12, rural school (approximately 130 students total)  Small class size (average of less than 20 students per class, K-12)  Highly supportive and professional staff  Strong community support  Additional opportunities beyond the classroom  Full time, continuing - Applications and job descriptions are found on our website
https://www.harringtonsd.org/page/employment
- This position is opened until filled. - Interested applicants should send a completed district application, letter of interest, resume and three current letters of recommendation to: Tiffany Clouse, Principal Harrington School District PO Box 204 Harrington, WA 99134 Call 509-253-4331 if you have any questions. The Harrington School is an equal opportunity employer. We strive to create a working environment that includes and respects cultural, racial, ethnic, sexual orientation, and gender diversity. Women, racial and ethnic minorities, persons with disabilities, persons more than 40 years of age disabled, and Vietnam era veterans and people of all sexual orientations and gender identities are encouraged to apply. Persons needing accommodation in application process or this announcement in an alternative format may contact the Harrington School District. This holds true for all district employment and opportunities. Inquiries regarding compliance and/or grievance procedures may be directed to the school district's Title IX/RCW 28A.640 compliance officer and/or Section 504/ADA coordinator, Wayne Massie, 100 S. First Street, Harrington, Washington, 99134, (509) 253-4331
Thank you Donors!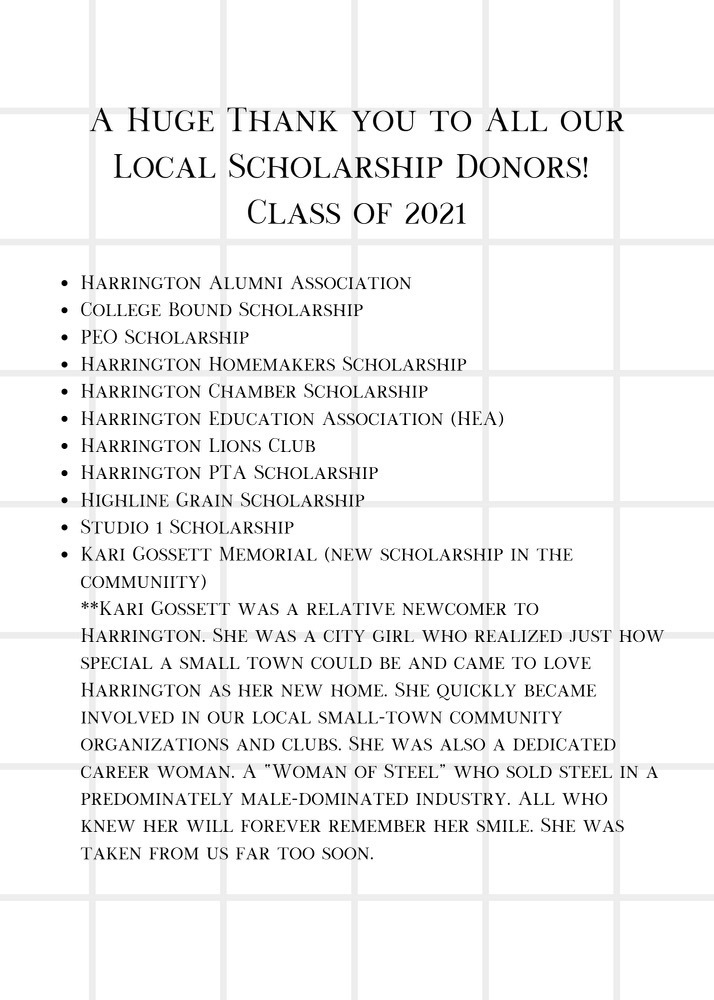 Good evening Harrington Families. This Friday, June 11th is our last day of school. Students will be released at 11:30 am. Please make sure your child has turned in their textbooks, library books, chromebooks and band instruments by Friday. They cannot fully checkout until all of their materials are returned. Have a great summer!
Please join us on Friday, June 4, 2021 for a parade to honor our 2021 graduates.

Good evening Harrington families. The book fair is this week on the Harrington stage Wednesday through Friday. They are all buy one get one free. The times are Wednesday and Thursday 2:00 pm to 5:00 pm and Friday from 2:00 pm to 3:30 pm. Students are welcome to shop in the mornings from 8:00 am to 8:20 am before school. Thank you and have a great evening.

Good Evening Harrington Families. This is a reminder to please plan to attend the "What Every Parent Needs to Know Crisis Reality Training" tomorrow evening, May 17th from 6:00pm to 8:00 p.m. at the school. Please RSVP to the school office (509) 253-4331 by tomorrow for free Child care. Door prizes will be given as well as treats to go after the training. Hope to see you there! Also, a reminder that School will be released at 11:30 a.m. tomorrow for staff training. Thank you!

Good Evening Harrington Families. Please plan to attend the "What Every Parent Needs to Know Crisis Reality Training" on Monday, May 17th from 6:00pm to 8:00 p.m. at the school. Please RSVP to the school office (509) 253-4331 by Monday for free Child care. Door prizes will be given as well as treats to go after the training. Hope to see you there! Just a reminder that School will be released at 11:30 a.m. on Monday for staff training. Thank you!

Reminder of the Crisis Reality Training on Monday at the Harrington School!


Reminder for the Blood Drive that will be at the Harrington School Monday, May 3rd!


Good evening Harrington Families. Our school is participating in the COVID-19 Student Survey this week. The survey will be given to students in grades 6 to 12 throughout the state. The survey includes questions related to physical and mental health, thoughts and feeling pertaining to school during the pandemic; adult and peer support; attitudes towards and use of alcohol, marijuana, and other drugs and COVID-19 precautions. Survey results are used by teachers, school leaders, parents, community partners and policy leaders to help understand how to meet the needs of the youth in the state. Participation in the survey is voluntary and the students' answers are anonymous. Please read the Parent and Student Notification FAQ document in your email for more information about the survey. Thank you and have a great evening.


Good evening Harrington Families. As a reminder, all children 1 to 18 years of age are currently able to receive breakfast and lunch free of charge. If your child is not going to be at school and you would like to receive meals, please call the school by 9:30am to request them. Thank you and have a great evening.